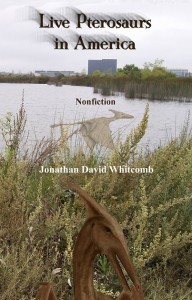 [The third edition of LPA was published November 2, 2011] From California to Maine, from Washington state to Florida, apparent living pterosaurs appear to be able to hide in any or all of the 48 connected states of the United States. But they sometimes fail to remain hidden, resulting in many sightings. Live Pterosaurs in America, a cryptozoology book in the true genre of cryptozoology, dives into the eyewitness sightings that have catapulted this cryptid into public view.
To quote from Chapter Two (sighting by Scott Norman):
"The animal I saw had an 8-10 foot wingspan; the wings were bat-like in shape, the inside had that wavy type of look. The body was about 5-6 feet in length, the neck about 1-2 feet in length, the head was about four feet in length, and the head was key . . . it has a crest that was about 2 feet in length, fit that of a pteranodon . . ." (Others verified Scott's report.)
Buy the nonfiction cryptozoology book on Amazon; it should be available by about Nov 10, 2011. [update: It was published on November 2, 2011, now available on Amazon]
Read the title page of Live Pterosaurs in America.
10 comments on "
Cryptozoology book: Live Pterosaurs in America

"
Pingback: Ohio pterosaur sightings « Dinosaurs and Pterosaurs Alive

Pingback: 1400 American Eyewitnesses of Living Pterosaurs » Knowable News Blog

Pingback: Sighting in Cuba, 1971 | Modern Pterosaur

Pingback: Flying Creature in San Fernando Valley | Modern Pterosaur

Pingback: Names for live pterosaurs « Live Pterosaur

Pingback: Fossils and Pterosaurs | Modern Pterosaur