It seemed like it would be a fun activity for the seven native boys of Umboi Island, Papua New Guinea. It was a short hike in kilometers, but a difficult climb up to the crater lake that they call "Pung." Just a few minutes after they arrived at the lake, however, something unexpected also arrived: the giant ropen. The creature flew over the lake, and the boys ran home in terror, never to forget the horrible encounter.
One of those boys was Gideon Koro. Soon after the encounter with the ropen, he was interviewed by some American visitors who were curious about reports of an apparent pterosaur. The boy was still nervous to talk about the ropen but answered their questions.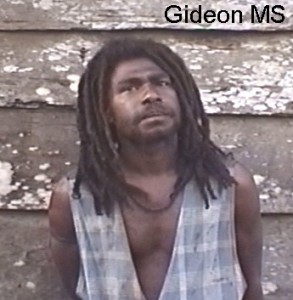 About ten years later, Gideon was visited by another American, Jonathan Whitcomb, who asked more questions. The young man had grown up and was more at ease this time. He described the mouth of the ropen as "like a crocodile." The tail length he estimated at "sefan meetuh" (seven meters, or twenty-two feet). He was sure that the ropen had no feathers but skin "like byung" (flying fox fruit bat).
Two other native eyewitnesses then made themselves known to the American interviewer: two of the other boys who had been terrified at the sight of the ropen on that day on the shore of Lake Pung. They verified the truthfulness of Gideon's account.
Read "Gideon was terrified by the ropen" (with audio of the actual interview in 2004)
Also the "First interview of Gideon Koro"
Nonfiction cryptozoology book on living pterosaurs in the United States