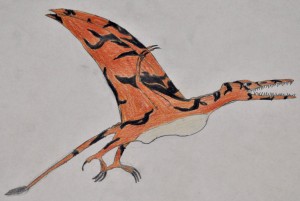 It was a nice day with only a few clouds, when eight-year-old Aaron Tullock and his mother arrived at his grandparents' house in northeast Texas, an hour before sundown; the boy stayed outside to look around.
After half a minute, the creature came. In Aaron's own words, "This thing flew over my head, about eight feet off the ground, and stopped and hovered in mid air. I was facing west, so the creature flew from east going west which means it came from our land across the road, which is a nice mix of oak and pine forest and thick swamp. . . . It stopped in mid air and hovered there by flapping its featherless, bat-like wings, which were about four feet in span, maybe five. It had a tail about three feet long, with the . . . flange on the end . . . no head crest and no feathers at all, although there was kind of a longish bump on the back of the head. . . ."
Aaron is familiar with the birds and bats of the area; the apparent pterosaur was nothing like any of them. Since he was not believed, he put the encounter out of his mind for years. But he has now allowed his name to be used as he reveals his experience.
Early in 2010, through emails, Jonathan Whitcomb, author of the nonfiction cryptozoology book Live Pterosaurs in America, interviewed Aaron. The young man sent the cryptozoologist color sketches, showing the orange and black markings of the creature. He said, "Although the animal was brightly colored, the underside was not brightly colored, it was more of a cream color, like dirty clouds."
Aaron also said, "I remember its feet were little and its legs were probably less than a foot long each, about seven inches. it had four claws on each foot, black in color like monitor lizard claws if a monitor lizard swiped up fish or something from water, a little disproportionately long to its toes. The flange on its tail had a small diamond shape in the center with veins going out from it. After about two or three minutes of it hovering in place, it made a strange noise I dont know how to descibe . . ."
Although the coloring differed greatly from most reports from eyewitnesses, the long tail with a "diamond" is a common description, present in reports from various parts of the world, according to Whitcomb.
Read Boy sees pterosaur in Texas
Read Marfa Lights of Texas (living pterosaurs that are bioluminescent)