A recent post mentions "clear thinking" with evaluating eyewitness accounts of what seem to be live pterosaurs. It came up when Jonathan Whitcomb was interviewed by the Canadian talk show host Richard Syrett. Some of the interview will be on television in Canada.
Sometimes some people assume that Whitcomb and Guessman and Woetzel have not been thinking clearly. They assume they have a problem because those three American cryptozoologists proclaim that pterosaurs are still living, at least in some species they are alive.
This could bear close scrutiny. How does clear thinking enable us to evaluate the testimonies of witnesses of living "pterodactyls?" One way to evaluate a testimony is to scrutinize why an eyewitness might lie to perpetrate a hoax.
This Australian has made it clear that the creature that he saw flying over Bougainville Island in 1971 is very much unlike any known bird or bat. His descriptions make that clear. But could he have told a lie? No, not at all. Mr. Hennessy is a psychologist. He lives by consulting with leaders in China, for that is where he prefers to spend his time. But why would he lie in a way that would jeopardize his livelihood? How could his business survive if he was known to have lied about seeing a large flying pterodactyl? It is unthinkable that he would lie about his sighting. He must have told the truth.
Could the World War II veteran Duane Hodgkinson have lied about his experience in New Guinea in 1944? No, not at all. For many years, he has been a flight instructor. How could he continue to lie about a giant "pterodactyl" that had a tail "at least ten or fifteen feet long?" Who would trust him if he had lied about that story? And why has he stuck to his story after all these years, for some people have dismissed it and probably thought less of him because he told it to them? He is surely honest, with no reason to lie about it.
Why would Mr. Kuhn continue to stick to his story about two large "pterodactyls" that he saw flying nearby in clear daylight? Sure it was a long time ago, that sighting in Cuba in 1971, but he still sticks to his story. He has been accused of telling a lie but he strongly repudiated that accusasion. What does he have to gain by keeping himself exposed to embarrasement and scorn? His sketch proves those two flying creatures were not bats and they were not birds. He must have told the truth.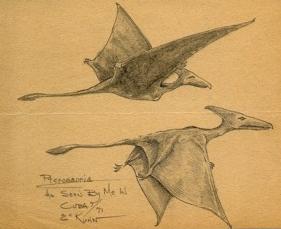 Sketch drawn by the eyewitness, Eskin Kuhn
Why would Patty Carson lie about her encounter with a "dinosaur?" She admits she was only a child when she and her brother saw the creature. But it was in the same part of Cuba where Eskin Kuhn would see two similar flying creatures. The sightings were about six years apart but the sketches those two eyewitnesses drew show marked similarities. Carson has nothing to gain from telling a lie. Why doubt her? Why would she go to so much trouble to draw her sketch when it might set her up to be ridiculed, like Kuhn has been ridiculed? She must be telling the truth.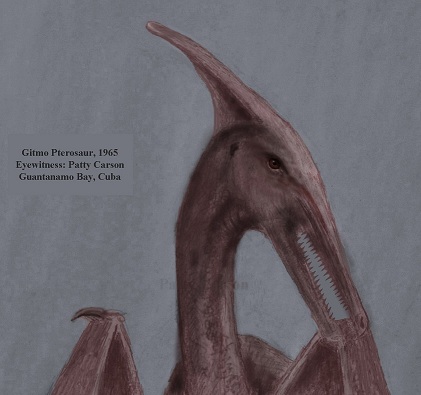 The eyewitness Patty Carson drew this sketch – pterosaur with teeth
The interview for Canadian television seems to be correct regarding clear thinking. Those who know about these eyewitnesses, and believe their stories, really are thinking clearly. Hennessy, Hodgkinson, Kuhn, and Carson really are convincing witnesses.
By the way, why does the pterosaur seen by Carson have teeth but the two seen by Kuhn have no teeth visible? The answer is simple. Carson was closer to the creature and the children and the creature all froze for a few moments. Also, Carson's "dinosaur" was sitting on the ground but Kuhn's "pterodactyls" were flying. Also, it looks like the two seen by Kuhn had their mouths closed while they were flying. Both sightings were at the Guantanamo Bay Naval Station in Cuba.
When Gideon Koro and his boyhood friends hiked up to the crater lake Pung, on Umboi Island, Papua New Guinea, around 1994, he knew nothing about the 1971 sighting by the Australian Brian Hennessy, hundreds of miles to the east. He had heard the traditions of the ropen but he and his friends were unprepared for the shock of seeing one in daylight. They were sorely shocked at the giant long-tailed creature that flew over the lake that day; all the boys ran home. Ten years later (2004), he told about his encounter to an American cryptozoologist.
When Hennessy was driving on a ridge on Bougainville Island, he knew nothing about the 1944 sighting by the American Duane Hodgkinson, hundreds of miles to the west. He knew Western traditions about pterosaur extinction and was shocked at the large, apparently featherless pre-historic-looking long-tailed creature that flew over the ridge that day. Thirty-five years later (2006), he told about his encounter to an American cryptozoologist.
When Duane Hodgkinson and his army buddy were staring at large tropical ants at the edge of a clearing just west of Finschhafen, New Guinea, during World War II, he knew Western traditions about pterosaur extinction. He was shocked at the large, apparently featherless pre-historic-looking long-tailed creature that took off from the far side of the clearing and flew up into the air. Sixty years later (2004), he told about his encounter to an American cryptozoologist.
Hodgkinson deserves credit for telling the right American investigators about his encounter, for books have now been published on living pterosaurs. Other eyewitnesses have been found and interviewed because he was willing to lead the way, openly telling us about his experience. His courage is displayed not so much in standing his ground one hundred feet from a giant living fossil but in standing his ground facing potential ridicule from the American public. Thank you, Duane.