Of course "pterodactyl" is not the word; "pterosaur" is what people actually mean. But those featherless flying creatures, differing from bats completely (only resembling them as flyers without feathers), and portrayed as ancient extinct flying creatures—those pterosaurs are appearing to human residents of Ohio; they have been appearing in Ohio for years.
Long-tailed pterosaur of Antwerp
The Antwerp Bee-Argus newspaper carried a front-page report of an apparent pterosaur sighting.
"He described it like a pterosaur, according to a recently-published book, Live Pterosaurs in America." The creature was reported "chasing sparrows as it flew over the Route 49 bridge [Maumee River] near Antwerp, Ohio." The author found credibility in the testimony.
 Minister sees pterosaur in Mount Vernon, Ohio
I happened to notice a creature in the sky. . . . to my estimation it appeared to have no feathers. It was a leathery grayish color. . . . [very unusual] was the tail: longer than most bird tails . . .  with a diamond shaped point at the end. . . . I have been careful not to tell many people.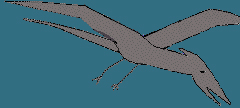 According to the nonfiction book "Live Pterosaurs in America," Susan Wooten was driving to Florence, South Carolina, on Highway 20, when she "saw something flying from her left, then passing in front . . . 'It swooped down over the highway and back up gracefully over the pines . . . as big as any car . . . NO feathers . . . like a humongous bat.'"
Before writing the book, the author had interviewed Wooten. She seemed to be credible, showing no sign of anything that would suggest any hoax or mental health issue. Here is part of that interview:
Q: How many feet above the highway was it?
A: Probably 20 feet or so . . .
Q: What was the approximate distance from wingtip to wingtip?
A: My best guess is 12-15 feet. [wingspan]
Q: Could you make a sketch of the creature?
A: Oh, yes [sketch shown above]
***************************************************************************
For more online information, see South Carolina Pterosaur Sighting
For a better-quality sketch of an apparently-similar pterosaur, see Pterodactyl in Cuba