Glen Kuban is one of a very few paleontologists who have spoken out against living pterosaur investigations. One of the investigators, Jonathan Whitcomb, has responded:
Strange Flying Creatures and Bulverism
"Bulverism" C. S. Lewis labeled the slick ploy of avoiding reasoning on a subject by pointing out the reason ones opponent is so silly. . . . The case I here present may be a mild case of bulverism, but the ramifications, for logical or foolish conclusions, appear significant.

One of Kuban's thirty-one paragraphs mentions a possible explanation of sighting reports: "It's likely that at least some southern hemisphere sightings of "pterosaurs" are explained by fruit bats." It also says that those bats, when "seen in silhouette (which would be the case at night) can present a pterosaur-like profile, especially to nonscientific observers." But Hodgkinson's sighting was in the middle of the day. In addition, how can anyone explain how a bat-tail about an inch long could appear in clear daylight to be "at least ten or fifteen feet" long. It seems that Kuban is far too intent on dismissing the general concept of modern living pterosuars, for he ignores the reports that would make his interpretation appear ludicrous.
The paleontologist Glen Kuban seems to have left out many significant eyewitness sighting reports, accounts that could have made his attack against living-pterosaur ideas appear flimsy at best. He appears to be trying to protect traditional paleontology, including the idea of complete extinctions of all species of pterosaurs.
Read of an even better example of bulverism regarding critics against living pterosaurs
Read also "Extinction or Near-Extinction, What Distinction?"
Non-Fiction Cryptozoology Book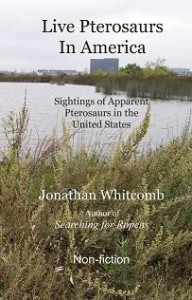 Living pterosaurs have been reported in the United States, for years. Astonishing! Eyewitnesses had been afraid to come forward, for the most part; now those who choose can remain anonymous and tell of their encounters. Read the many eyewitness sighting reports in the book Live Pterosaurs in America; support the investigations by purchasing the nonfiction book on  Amazon or from the publisher of the book.
For the months of May and June, 2010, this has been by far the best-selling nonfiction book (Amazon.com) about living pterosaurs. It is in pure cryptozoology genre, unlike some books about modern living pterosaurs and dinosaurs. It's packed with exciting observations by shocked eyewitnesses. Find out for yourself why many Americans are awakening to the knowledge that these strange creatures still fly, and right here in the United States. Purchase your own copy today and promote the investigations.
It seemed like it would be a fun activity for the seven native boys of Umboi Island, Papua New Guinea. It was a short hike in kilometers, but a difficult climb up to the crater lake that they call "Pung." Just a few minutes after they arrived at the lake, however, something unexpected also arrived: the giant ropen. The creature flew over the lake, and the boys ran home in terror, never to forget the horrible encounter.
One of those boys was Gideon Koro. Soon after the encounter with the ropen, he was interviewed by some American visitors who were curious about reports of an apparent pterosaur. The boy was still nervous to talk about the ropen but answered their questions.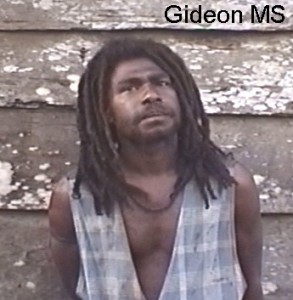 About ten years later, Gideon was visited by another American, Jonathan Whitcomb, who asked more questions. The young man had grown up and was more at ease this time. He described the mouth of the ropen as "like a crocodile." The tail length he estimated at "sefan meetuh" (seven meters, or twenty-two feet). He was sure that the ropen had no feathers but skin "like byung" (flying fox fruit bat).
Two other native eyewitnesses then made themselves known to the American interviewer: two of the other boys who had been terrified at the sight of the ropen on that day on the shore of Lake Pung. They verified the truthfulness of Gideon's account.
Read "Gideon was terrified by the ropen" (with audio of the actual interview in 2004)
Also the "First interview of Gideon Koro"
Nonfiction cryptozoology book on living pterosaurs in the United States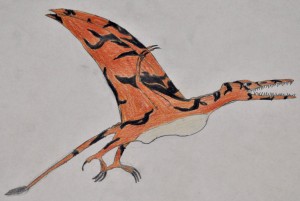 It was a nice day with only a few clouds, when eight-year-old Aaron Tullock and his mother arrived at his grandparents' house in northeast Texas, an hour before sundown; the boy stayed outside to look around.
After half a minute, the creature came. In Aaron's own words, "This thing flew over my head, about eight feet off the ground, and stopped and hovered in mid air. I was facing west, so the creature flew from east going west which means it came from our land across the road, which is a nice mix of oak and pine forest and thick swamp. . . . It stopped in mid air and hovered there by flapping its featherless, bat-like wings, which were about four feet in span, maybe five. It had a tail about three feet long, with the . . . flange on the end . . . no head crest and no feathers at all, although there was kind of a longish bump on the back of the head. . . ."
Aaron is familiar with the birds and bats of the area; the apparent pterosaur was nothing like any of them. Since he was not believed, he put the encounter out of his mind for years. But he has now allowed his name to be used as he reveals his experience.
Early in 2010, through emails, Jonathan Whitcomb, author of the nonfiction cryptozoology book Live Pterosaurs in America, interviewed Aaron. The young man sent the cryptozoologist color sketches, showing the orange and black markings of the creature. He said, "Although the animal was brightly colored, the underside was not brightly colored, it was more of a cream color, like dirty clouds."
Aaron also said, "I remember its feet were little and its legs were probably less than a foot long each, about seven inches. it had four claws on each foot, black in color like monitor lizard claws if a monitor lizard swiped up fish or something from water, a little disproportionately long to its toes. The flange on its tail had a small diamond shape in the center with veins going out from it. After about two or three minutes of it hovering in place, it made a strange noise I dont know how to descibe . . ."
Although the coloring differed greatly from most reports from eyewitnesses, the long tail with a "diamond" is a common description, present in reports from various parts of the world, according to Whitcomb.
Read Boy sees pterosaur in Texas
Read Marfa Lights of Texas (living pterosaurs that are bioluminescent)