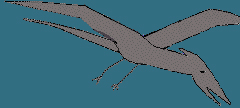 According to the nonfiction book "Live Pterosaurs in America," Susan Wooten was driving to Florence, South Carolina, on Highway 20, when she "saw something flying from her left, then passing in front . . . 'It swooped down over the highway and back up gracefully over the pines . . . as big as any car . . . NO feathers . . . like a humongous bat.'"
Before writing the book, the author had interviewed Wooten. She seemed to be credible, showing no sign of anything that would suggest any hoax or mental health issue. Here is part of that interview:
Q: How many feet above the highway was it?
A: Probably 20 feet or so . . .
Q: What was the approximate distance from wingtip to wingtip?
A: My best guess is 12-15 feet. [wingspan]
Q: Could you make a sketch of the creature?
A: Oh, yes [sketch shown above]
***************************************************************************
For more online information, see South Carolina Pterosaur Sighting
For a better-quality sketch of an apparently-similar pterosaur, see Pterodactyl in Cuba